(Lviv, Ukraine), 24-26 October 2008.
27/6/2008
Ø: Oleva -- Mika Vainio's new album on Sähkö Recordings (FIN)
Mika Vainio's new album under his Ø (pronounced "ohm") alias, called Oleva ("The Existing", SÄHKÖ-023), will be released in July on Helsinki's Sähkö Recordings.
11/5/2008
Mika Vainio's new 7" out on Touch (UK)
Mika Vainio has a new solo single, 'Behind the Radiators' (TS06), on the 7" series of UK's Touch, in June 2008. More info here.
4/5/2008
Pan sonic DVD Kuvaputki out now
Edward Quist's DVD Kuvaputki ("Cathode Ray Tube"), filmed on Pan sonic 1999 tour, is out now.
20/3/2008
Mika Vainio to join The Vladislav Delay Quartet
Berlin-based Finnish artist Vladislav Delay (a.k.a. Sasu Ripatti) launches an ensemble called The Vladislav Delay Quartet; featuring Mika Vainio of Pan sonic on electronics, Derek Shirley on double bass, Lucio Capece on saxophones & bass clarinet and Vladislav Delay himself on drums.
The debut performance of The Vladislav Delay Quartet will take place on Friday 11 April 2008 at My Favourite Thing festival at Radialsystem, Berlin, Germany.
More info @ Vladislav Delay site
23/1/2008
Angel: Kalmukia CD out now
Angel (a.k.a. Ilpo Väisänen of Pan sonic with Dirk Dresselhaus of Schneider TM) has a new CD called Kalmukia out now on Mego Editions.
21/1/2008
Mika Vainio @ 24 Drone People Festival (Stockholm) & iDEAL 10 (Berlin)
Mika Vainio will appear at 24 Drone People festival (23 - 24 February 2008) of Fylkingen, Stockholm, Sweden. Other performers include among all Stephen O'Malley, Hildur Gudnadottir, CM von Hausswolff and Jean-Louis Huhta. More info at iDEAL Recordings and Stockholm New Music.
Mika Vainio will also perform at iDEAL 10, 12 April 2008, Berlin, Germany (details TBA).
14/11/2007
Pan sonic vs. Keiji Haino @ Volksbühne, Berlin, 15 November 2007 / A Pan sonic/Keiji Haino album on its way?
Pan sonic meets Keiji Haino at Berlin's Volksbühne, on Thursday 15 November 2007. Also Mr. Schmuck's Farm will appear.
In Tonstudios an unterschiedlichen Orten Europas braut sich Unheilvolles zusammen: Nach Informationen aus gewöhnlich gut unterrichteten Kreisen arbeiten gegenwärtig zwei Giganten der Noise-Musik erstmals an einem gemeinsamen Album: Pan sonic, berühmt-berüchtigtes Elektronik-Duo aus Finnland mit Wohnsitz in Berlin und Barcelona, treffen auf Keiji Haino, Ausnahmegitarrist aus Osaka, der bereits vor zwei Jahren mit einem fulminanten Konzert als Solist bei Zeitkratzer in der Volksbühne und zuletzt durch seine Auftritte bei einem Projekt mit dem Künstler Raymond Pettibon und dem Theatermacher Schorsch Kamerun in den Sophiensaelen für Furore sorgte. Bevor er nach getaner Arbeit zurück nach Japan fliegt, stellen Haino und Pan sonic das mit Sicherheit hochgradig explosive Ergebnis ihrer Kollaboration exklusiv in der Volksbühne vor.

Auch im Vorprogramm wird ein erlesenes Kooperations-Projekt präsentiert: Dirk Dresselhaus (Schneider TM) und Hildur Gudnadóttir (Múm), die unter dem Namen Mr. Schmuck's Farm bereits ihr gemeinsames Album Good Sound veröffentlicht haben.
Pan sonic vs. Keiji Haino
Date: Thursday 15 November 2007
Venue: Volksbühne am Rosa-Luxemburg-Platz
Time: 2100 hours -> (Grosses Haus)

Address:
Linienstrasse 227
Mitte
10178 Berlin
Germany
12/11/2007
Pan sonic meets Arne Deforce @ Etoiles Polares Finland festival, Ghent, Belgium, 15 December 2007
Pan sonic will perform together with Belgian cellist Arne Deforce at Etoiles Polares Finland festival that will take place at Vooruit Arts Centre of Ghent, Belgium, 12-15 December 2007. Other Finnish performers at the festival comprise Jimi Tenor, Kimmo Pohjonen, Aavikko, Magyar Posse, Shogun Kunitoki, Circle, Cleaning Women and more.
Magyar Posse / Circle / Pan sonic meets Arne Defore / Aavikko & Samuli Alapuranen Various Vooruit venues December 15, 2007
15/10/2007
Whitehouse (UK) & Mika Vainio live @ Tavastia Helsinki, 28 October 2007
23/7/2007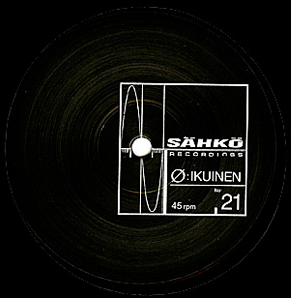 Ikuinen, new Ø 12" now out on Sähkö Recordings
Finland's Sähkö Recordings announces that the new 12" by Ø (pronounced "ohm") a.k.a. Mika Vainio of Pan sonic, called Ikuinen ("Eternal"), is out now.
Artist: Ø
Title: Ikuinen
Format: 12" (45 rpm)
Cat.No: SÄHKÖ-021
Date: July 2007
tracklist:
A: Ikuinen
B: Ikuinen - Version
Info & sound samples @ Sähkö Recordings
25/5/2007
Katodivaihe finally out
26/2/2007
Mika Vainio's new album, Revitty, out on Wavetrap / an unofficial MySpace page / album delay
Mika Vainio has a new solo album, Revitty ("Torn"), out on Wavetrap (UK). More info here.
Pan sonic has now an unofficial MySpace site.
Other news: it seems Pan sonic's new album has been delayed again... more info on this page as soon as I get some myself...
20/12/2006
Angel & Hildur Gudnadottir: In Transmediale (Oral)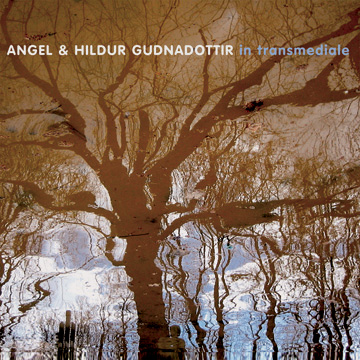 Angel (a duo of Ilpo Väisänen of Pan sonic and Dirk Dresselhaus a.k.a. Schneider TM) have released an album In Transmediale with Icelandic cellist Hildur Gudnadottir (who also appears on Pan sonic's forthcoming Katodivaihe album) on Oral label (Montreal, Canada).
Discography information:
Angel & Hildur Gudnadottir
In Transmediale (CD)
Oral CD11
Oral (Montreal, Canada)
1 September 2006
tracklist:
1. In Transmediale (70:35)
credits: Cello - Hildur Gudnadottir
Effects [Oscillator & Feedbacks] - Dirk Dresselhaus, Ilpo Väisänen

Recorded by - Eric Mattson
Mastered by - John Sellekaers
Artwork & photography (inside photos) - Eric Mattson
Photography (cover) - Ilpo Väisänen
Note: recorded at Club Transmediale, 2 February 2005, Berlin, Germany.
24/11/2006
Katodivaihe, the new Pan sonic album out January 2007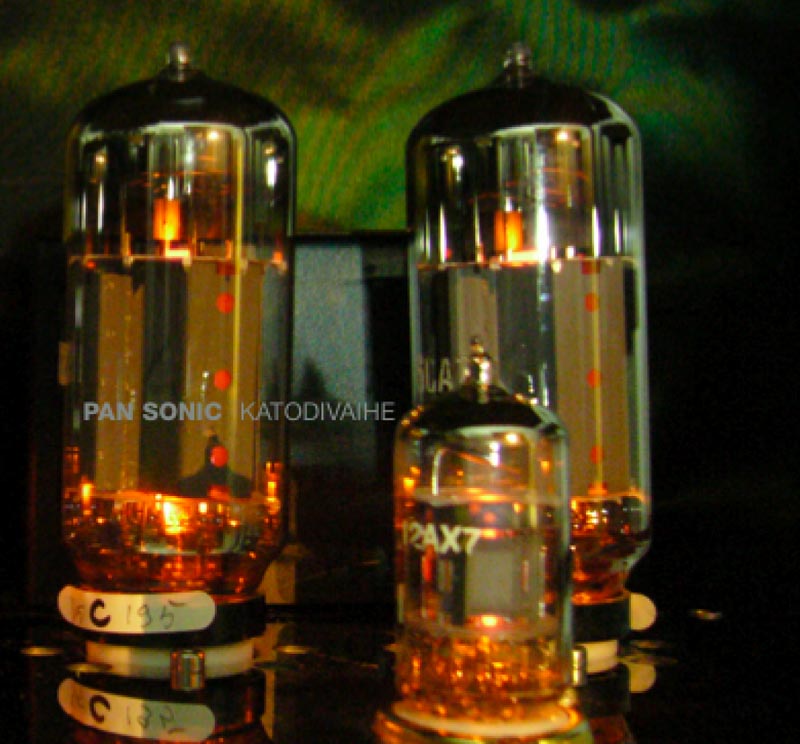 click for larger image
From blastfirstpetite:
"Pan sonic have signed exclusively to blastfirstpetite worldwide for their next three albums. Their first album with BFP to be released in December 2006 will be their sixth studio album released to date. Titled Katodivaihe / Cathodephase, the fourteen new tracks were recorded in Berlin between 2005 and 2006.
All the tracks were recorded & performed by Mika Vainio and Ilpo Väisänen. The album includes three tracks (1, 8 & 14) with cello, played by Hildur Gudnadottir. Hildur also has her own solo album released this year.
The album is available as a CD and a limited edition, double vinyl package."
artist: Pan sonic
title: Katodivaihe / Cathodephase (CD/ltd. 2-LP")
label: Blast First Petite (UK)
cat.no: PTYT 06
date: January 2007
tracklist
1. Virta 1. / Current 1.
2. Lähetys / Transmission
3. Koneistaja / Machinist
4. Hyönteisistä / About Insects
5. Laptevinmeri / Laptev Sea
6. Kuumuudessa muodostuva / Forming in Heat
7. Kertsilogia / Herzlogy
8. Suhteellinen / Comparative
9. Kytkennät / Connections
10. Haiti
11. Hinaaja / Tugboat
12. Tykitys / Cannoning
13. Leikkuri / Cutter
14. Virta 2. / Current 2.
Distribution: Cargo UK
Additional Pan sonic info from blastfirstpetite:
"Promoters: those wishing to contact Pan sonic can write to info@blastfirstpetite.com and we will forward it to them. There is no extensive Pan sonic touring planned around the release of the new album. Small sequences of live dates in Europe are regularly organised by ecroci@infinito.it who can best advise you of their schedule, technical & financial needs.
Information is often scarce about Pan sonic live shows as they prefer to place their trust in the local promoter to advertise as they think fit. Therefore we are not going to even attempt to keep updated info on this site and we are unawere of any other site so equipped.
Pan sonic are playing a number of collaborative show in late 2006 and early 2007 with Italian contemporary music ensemble Alter Ego under the title "Microwaves" including an appearance on 26th November 2006 at the prestigious Hudderfield Contemporary Music Festival.
In early 2007 they are also planning to record a soundtrack for documentary filmmaker Mika Taanila. Mika Vainio also has been recording work with Keiji Haino, and a 20-minute piano piece with Oscar Pitto in Rome 17th March '07 and from 26th May to 18th June '07 he performs in Geneva, live music to a solo dance by Cindy Van Acker.
Journalists: Should be aware of their reluctance to be interviewed by email. info@blastfirstpetite.com will however endeavour to provide answers to specific pertinent questions when so requested. All the previous Pan sonic albums can be found via Blast First / Mute, as can historical background information, but in these modern times, a quick Google & Wikipedia is going to reveal more than anyone would probably need to know. 'There is no theory for Pan sonic. We have no plan. We just make the music.' - Mika Vainio."
A Pan sonic track from Katodivaihe, 'Koneistaja/Machinist', also appears on The Wire Tapper 16, given away with The Wire magazine (UK) issue 274, December 2006.
28/9/2006
Pan sonic in Los Angeles photographs
Photographs of Pan sonic playing live in Los Angeles, 16 September and 21 September 2006, by Wild Don Lewis: here.
16/9/2006
Pan sonic video interview @ Brainwashed
Here you can see Pan sonic's video interview (25 minutes, Quicktime Streaming Video) at Brainwashed.
"This is an extra special treat, to feature Pan sonic live and an interview with Mika Vainio. The duo of Vainio and Ilpo Väisänen are on a very brief US tour and Mika talked with us about the evolution of the group, the most recent release -- the massive four-CD Kesto, collaborations, and the forthcoming release on Blast First (Petite), due in November. Look for brief clips of music videos too."
Includes also excerpts of Pan sonic's early September 2006 performance in Boston. Mika talks about the forthcoming album, mentioning Pan sonic uses acoustic sound sources now...
16/2/2006
Mika Vainio on Yokomono 3
Various Artists
Yokomono 3
Staalplaat
The third Staalplaat Soundsystem Yokomono loop LP compiled on the occasion of the Avanto Festival 2005 in Helsinki. The theme: Helsinki and its environmental sounds. Mika Vainio, one half of Pan sonic, was commissioned to produce a seven-minute composition. Petri Kuljuntausta from Helsinki was, in turn, asked to provide a composition of an equal length responding to Vainio's piece. The sound material to be used for the compositions, field recordings from the turn of the 1960s and 1970s made at the Hietalahti shipyard in Helsinki, was discovered in the special effects archive of YLE Finnish Broadcasting Company. These sounds have a personal dimension for both composers: Vainio spent part of his childhood living near the dockyard, while Kuljuntausta has used sounds recorded from inside ships' hulls as material for his earlier works.
Side two of the record presents Alexei Borisov, Andrey Kiritchenko, Blixa Bargeld, Ditterich von Euler-Donnersperg, G.X. Jupitter-Larsen, Jason Forrest, Main, Merzbow, Staalplaat Soundsystem, Un Caddie Renversé Dans l'Herbe and Zbigniew Karkowski with five loops from each featured artist and their own sound environment.
15/2/2006
Pan sonic & Hilduz Gudnadottir @ Le Lieu Unique / Mika Vainio featured on Soundtrack for an Exhibition, France