Imatran Voima interview (in Finnish) from Rumba!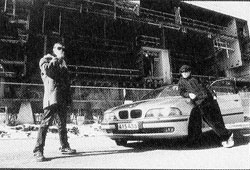 Imatran Voima are Fresh O Lex and Randy B. They release their music on their own Kostamus Kombinaat label.

Their first mini-LP has been pressed in the Czech Republic on heavy-duty 220 grams vinyl.

Imatran Voima hail to Kraftwerk, Egyptian Lover, 2 Live Crew, Newcleus, Dynamix II; also MC5, Stooges, Hank Williams, Johnny Cash (RIP) and the Phantom (a comics character created by Lee Falk)!

They consider Miami's booty-shaking bass scene their wonderland.

(source: Rumba 14/00, August 2000)

More info @ Kostamus page


d i s c o g r a p h y :

Imatran Voima
Imatran Voima (12")
iv01
Kostamus Records
July 2000
NOTE: Experimental freaky 80's flavoured electro with Battlestar Galactica & MC5 samples by new Finnish talents. 220 grams vinyl, limited edition 500.
Imatran Voima
Ghetto Bass Archives Vol.1 (8")
kos03
Kostamus Records
December 2001
A. In And Out (7:32)
B. Ghetto Bass Mega Mix (7:56)
NOTE: Slammin' old school electro/ghetto bass grooves. Dedicated to Eazy-E! Limited to 200 numbered copies.
Imatran Voima
In/Out / Kurvi (12")
PLATE 002
Tellektro (Norway)
July 2002
A1. In/Out
A2. In/Out - Luke Eargoggle Mixxx
B1. Kurvi
B2. Kurvi - Mr Velcro Fastener Mixxx
All shit made by Imatran Voima Helsinki.
NOTE: 'In/Out' released previously on a 8", December 2001 (see above).
Imatran Voima
Techno Slut (12")
PLATE 004
Tellektro (Norway)
April 2003
A1. Techno Slut
B1. We Love Science
B2. Do Dat
Imatran Voima / Bass Junkie
Group Sex / Quad City (12")
Tellektro (Norway)
17 May 2004 A. Group Sex
B. Imatran Voima vs. Bass Junkie: Quad City
Imatran Voima
The Church of Latterday Maggots (2-LP/CD)
PLATE 006
Tellektro (Norway)
12 July 2004
A1. Commando
A2. Group Sex
B1. Looking 4 A Phreak
B2. Computer Booty
B3. Der Aufklärung
C1. Give Me My Money
C2. Techno Slut
D1. The End Is Nigh
Imatran Voima
Commando (12")
Dominance Electricity (Germany)
A1. Commando (7:13)
A2. Commando [Bonus Beat] (1:45)
B1. Commando [SBASSSHIP Remix] (4:15)
B2. On Speed (4:55)
"Commando" & "On Speed" produced by Imatran Voima, Helsinki, 2000.
Imatran Voima is Randy Barracura & Fresh Lexxx.
Additional keyboards on "Commando" by Gameboy.
Shoutouts: DJ Häkä, Mista Tibbz.
Thanxxx to GOD.
remixes
Pimeyden Jousi - Remixed (12")
kos005 / Kostamus Records
May 2003
A1. Pimeyden Jousi (original demo by Two Witches)
A2. Pimeyden Jousi (1992 remix)
B1. Pimeyden Jousi (remix by Polytron)
B2. Pimeyden Jousi (Mr Velcro Fastener vs. Imatran Voima live at Kipsari)
The new versions of 1988's 'Pimeyden Jousi' ("Fiddle-Bow of Darkness") by Finnish gothic rock band Two Witches.
Desert Planet
Joystick Pop (CD)
Odor/Spinefarm
13 October 2003
* 12. Secret of the Saltmine (6:23)
NOTE: this is a "bass ambient" remix by Imatran Voima.
compilations
Various Artists
Fabric Live 08 (CD)
Fabric (UK)
6 January 2003
* Imatran Voima: In/Out
NOTE: mixed together by Keith Tenniswood (of Two Lone Swordsmen); features also tracks from Anthony Rother, Depth Charge, Disco D, 2 Lone Swordsmen & Dot Allison.
Various Artists
Stilleben 016
Stilleben Records (Sweden)
2002
* V.U.L.V.A.: Lovespeed
NOTE: with also tracks from Monkeyshop, Luke Eargoggle and Polytron.
Various Artists
Powerslaves: An Electro Tribute to Iron Maiden (CD)
AMCD 00:012, Angelmaker Records (NL)
October 2003
* 4. Imatran Voima: Aces High
Various Artists
Sound of Suomi - The Electro Sound of Finland (2x12"/CD)
Bunker 3031, Bunker Records (NL)
January 2004
* B2./5. Imatran Voima: We Love Science (5:57)
* D1./10. V.U.L.V.A.: MJ (7:55)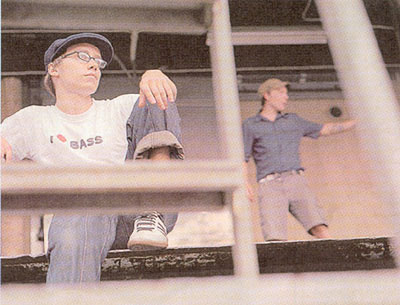 i m a g e s :

Imatran Voima live @ Helsinki Turbo 5, with I-f

c o n t a c t :

kostamus_records@hotmail.com
l i n k s :

Imatran Voima @ Discogs
r e l a t e d :

313ctr0





Search all Finnish artists and labels at pHinnWeb under alphabetic index.

[pHinnWeb] [FinnScene] [FinnDiscog] [Scrapbook] [FinnContacts] [FinnScene - Early Years] [5HT] [pHinnWeb Chart] [Links] [FAQ - Frequently Asked Questions]