Sähkö Recordings History

This text was originally published as a part of an article for the American fanzine The Skreem #11 in May 1995. I have made some updates (and will continue to do so -- just stay tuned!), but basically the text is the same as originally.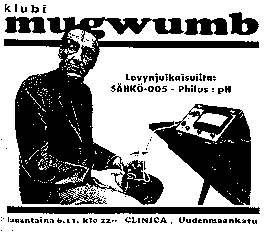 The first Finnish illegal raves were organised in the summer of 1989 by the Hyperdelic Housers which core was formed by Mika Vainio (aka D-Code aka Øm aka Ø who had started DJing in clubs in 1985, playing among all industrial and hip hop), Tommi Grönlund and Esko Routamaa. The Hyperdelic posse hailed from the Turku town at the southwest coast of Finland and were spinning original Chicago acid and house, also hip hop and funky -- the legendary Trax Records collections, 'Acid Over' by Tyree, 'French Kiss' by Li'l Louis, 'Humanoid' by Stakker, early Orbital tunes like 'Deeper' and 'Satan'...
The Hyperdelics got their records from trips to London and Berlin, since the availability of any proper house and techno in Finland was nearly non-existent in those days. After having visited the first warehouse party in Leningrad (now St. Petersburg) just across the Finnish border, the Housers organised the now-legendary Odd Zone all-night rave in the summer of 1990 as part of one of the most important city rock festivals of Finland, Down By The Laituri in Turku.
Despite their pioneering spirit (or maybe because of that), the Hyperdelic Housers' parties were often ridden by the local police, as most ravers were underage -- and though the Hyperdelic Housers were also organising the big Typpihappo raves at the Turku Typhoon hall as part of the large Ruisrock festival held every July, their activities were starting to recede by the summer of 1992, as techno and house music were already playing in every self-respecting disco and dance venue.
The Hyperdelic Housers were to spawn the first underground label of Finland, Sähkö Recordings, whose central place was to be in Helsinki. During 1993 Sähkö ('Electricity') already published five 12":s. Early 1994 saw the first Sähkö CD, Metri by Mika Vainio, recorded as Ø (pronounced "ohm"). Before this, Mika had already published in 1991 the first Finnish techno album Mindprobe by Corporate 09 which then consisted of Vainio and Pertti Grönholm.
Sähkö became best known for its scarce, ultra-minimalist sound. The first releases by Mika Vainio had almost as much silence on them as actual music; and listening to them on a quiet volume, one could almost imagine the stylus of record player had just stuck in the groove. It's quite hard to pinpoint any kindred spirits to Sähkö's music; maybe Canada's Richie Hawtin (of Plastikman fame) or Germany's Moritz (Maurizio/Basic Channel) Von Oswald at their most minimalist mood could come close, but even then, there is hardly any resemblance to the world of your ordinary dance techno in the tracks of Ø and Hertsi; maybe one should go as far as to the Zen-like philosophy of American avantgarde composer John Cage to find any possible similarities to Sähkö's output.
A lot of attention was put to Sähkö's design: the early records were released in unmarked silver sleeves, full of tiny drilled holes (inspired by the industrial artist Boyd Rice who, according to rumour, broke in to his record label's office in the 70's and drilled some extra holes to his records so one could also play them off-center), and CDs were hidden away in fiddly cardboard envelopes to give that intentionally "cheap", maybe also industrial look. (As far as Sähkö's merchandise go, most Pan sonic and Mika Vainio T-shirts available are designed by Mika's brother Atte Vainio a.k.a. Attentaat.)
Later on also some international artists joined in when Sähkö released material from Mike Ink, Kirlian (aka Abe Duque), Sil Electronics (aka Susanne Brokesch), Fred Giannelli; there was also talk about releasing the early recordings of Bruce Gilbert (of Wire fame) and Ron Vest, but this still remains uncertain. What was common to all these artists, was that they were each trying to be even "more Sähkö" than those first Sähkö releases had been, and someone like Sil Electronics even went so far in her minimalism that Mika Vainio's releases almost sounded like baroque music in comparison.
Sähkö's sublabel, Puu ('Wood') was flourishing too, concentrating on more housy/easy listening/jazzy efforts, like two albums from Jimi Tenor which rocketed him to international success, a double 12" of deep house by Turku DJ Sasse Lindblad, a 12" of Mika Vainio's Tekonivel project, and a joint effort of Mika Vainio and Jimi Tenor, Kosmos (Kocmoc), reeking easy listening-like ambience with Russian folk song flavour -- of which was initially spread the rumour that it was recorded by two fellas from Moscow's Astronomic Institute... 1997 also saw "Le Mutant" solo album by Brandi Ifgray, of the Finnish cult band Shadowplay fame, produced by Brandi's old friend, Jimi Tenor; combining Brandi's Lou Reed-esque vocals to Jimi's "cheapie" synth sounds. Jimi also recorded in the same year an EP of old school dub type of music with Peikko Viitala, called "Pula Dub".
Furthermore, there were two more 12"'s from Freestyle Man, "Que Domingo Inquieto" and "Port Arthur"; the former had as its guest the renowned Finnish vibes player Severi Pyysalo, alongside the ever-present Jimi Tenor. Jimi was also behind the Business City Orchestra 12", released on March '98. Jaakko Salovaara, who had co-operated with Mika Vainio on Sähkö's early Hammond house release, "Saab 96", and nowadays better known for his dancepop act JS16, had his hands on the "En Velo" EP (June '98), recorded as Papa Blue. Morris Brown remixes for Brandi Ifgray were released in autumn '98. A surprising Puu release was the Cat & Mouse mini-LP by Kärtsy Hatakka (of Waltari fame) and his brother Tote, consisting of music, which could be called a combination of prog-rock and industrial techno, out late 1998. March 1999 saw the latest Brandi Ifgray outing, a long play called Stargazer. Also a CD compilation of Freestyle Man's 12"s for Puu Records came out in August 2000, in co-operation with German Cliché label.
Tommi Grönlund (left in the picture, with Jimi Tenor), the head honcho of Sähkö, working also as an architect (in a.men, the group of designers and architects which among all won the competition for new kiosk designs to Helsinki! Grönlund was also chosen the Young Artist of the Year 1997 in Finland along with his partner, Petteri Nisunen), couldn't even in his wildest dreams foresee Sähkö's success as reputable part of the international techno underground. Sähkö records were praised by such people as Mixmaster Morris, Mike Paradinas aka µ-Ziq and even Björk(!) who asked Mika Vainio to mix her track 'Headphones' for the 1996 Telegram remix album.
Sähkö's first releases had already reached the DJ charts of the German techno magazine Frontpage and the British DJ magazine, Melody Maker listed Sähkö Recordings as a "Hot Tip for 95", and M8 zine rated the label the No. 1 Tip for 95. In December 1994 Tommi was interviewed by the leading British pop music tabloid NME, with loads of articles on Panasonic and Jimi Tenor to follow in its wake.
In addition for the trivia freaks, it should be mentioned that here in Finland Tommi Grönlund is also known as the disc jockey TG, spinning house music alongside with other DJ, Harri, though playing records on his international gigs with Sähkö Tommi has to take more experimental approach for which his record label is best known.

[ PICTURE 2 (from the left): Petteri Nisunen, Tommi Grönlund and Jari Lehtinen preparing an exhibition in Tampere. PICTURE 3 (from the right): DJ Harri and Tommi Grönlund with Pirkka Hartikainen.]
Oddly, Sähkö remained in underground in their native Finland as their products were still hard to get, except in those specialized dance music stores; as their domestic Finnish distribution was nearly non-existent despite all the hype they had received overseas, and even when Panasonic and Jimi Tenor -- the star of sublabel Puu and then signed to Warp Records -- started to get some foothold on an international scale. Now, with Sähkö and Panasonic licenced to the British Blast First label, it may be possible that their outcome will find its way even to those lazier techno punters, who have no time nor interest to chase after those valuable original silver sleeved 12":s.
Some relief to the record collectors was had in the summer of 1997 when Sähkö re-released their first two 12"'s as a double-12", and also when those same tracks appeared on Tulkinta CD by Ø, with some bonus tracks. German EFA Medien now distributes Sähkö internationally.
The latest releases of Sähkö are from Mika Vainio's "medical" Philus project: Kolmio 12" (SÄHKÖ-014) which features two new tracks and two remixes from Tetra CD (SÄHKÖ-015, both January 1998), of which Mika Vainio says: "I used to work at a medicine factory working in a process of making contraceptive capsules. Every day I had to put on the plastic gear, go through the air lock and get disinfected before entering the bright white production hall. That hall had extremely cold and inhuman atmosphere. On Tetra I wanted to create the same kind of ultra-neutral environment. I tried to make the record sound like the world of insects or microbes, totally empty of feelings and thoughts, but still having a premonition about the presence of something invisible that could be behind all this." Stylistically, the release following these, Come To Dance EP (Sähkö-16, July 1998) is electro, written by Freestyle Man a.k.a Sasse Lindblad, and features the already-legendary Irwin Berg of Turku.
In the true freak nature, other Mika Vainio solo releases, such as Mikro Makro on Rastermusic, have raised strange reactions in fans, as being able to create actual physical pain in them; this comes from a posting to IDM mailing list: "If you have Mikro Makro (Rastermusic 06, I think), listen to the third song for clicks halfway through that are actually painful at any volume. I have tried this on a couple of friends and they felt pain in their necks and throats. It gave me a headache after repeated listenings. Mika Vainio has my ultimate respect for being able to tap into my nervous system through a CD."
As far as other Sähkö news go, Tommi Grönlund (b. 1967) and Petteri Nisunen (b. 1962) worked for a new installation for Nuit Blanche exhibition in the Museum of Modern Art in Paris. The new Museum of Modern Art, Kiasma, in Helsinki, presented the joint project "Nimetön" ('Untitled') of Tommi Grönlund, Petteri Nisunen and Carl Michael von Hauswolff from 30 May to 12 July, 1998.
Also the gallery Sculptor in Helsinki exhibited Tommi's and Petteri's art in October 2000. Led-Field (on the right) consisted of the grid of electric wires and blinking red lights, and Concave Wall Installation was a saucer-shaped paraboloid antenna installed right to the wall, registering the movements of exhibition visitors and responding by electronic signals, as interactive art. All in all, Tommi and Petteri have already had exhibitions in Paris, Barcelona and New York, among all. Tommi and Petteri also curated the exhibition of the Nordic Pavillion of the 49th Venice Biennale, 2001.
Tommi has started with Harri Hännikäinen a new Sähkö sublabel called Keys of Life, which concentrates on house music. The first release is the Heartbeat EP by Roberto Rodriguez, followed by a 12" release of Freestyle Man and George Spruce (July 1999), and Afrobaltic Soundkimara (aka Jori Hulkkonen and Tuomas Salmela of Step Time Orchestra) 12" of July 2000.
The latest Puu/Sähkö Recordings releases are the joint project of Jimi Tenor and Finnish jazz legend Edward Wesala, called City of Women (Vesala died suddenly in December 1999, just before album's release); also the solo album of Suicide's Martin Rev, called Strangeworld, and All The Time 12" from Jimi's new bride, Nicole Willis. Her LP, Soul Makeover (2000) for Puu, is a blend of sultry soul, electro Motown soul and deep grooves. Also Jimi Tenor released again a single Cosmic Relief (July 2001) and album Utopian Dream (October 2001) on Puu, after his contract on UK's Warp Records had expired.
Sähkö spawned yet again another sublabel in summer 2001, when Jazzpuu ("Jazz Tree") started, specializing in re-releases old 1970's Finnish jazz classics from such performers as the late Pekka Streng, Olli Ahvenlahti (Grandma's Rocking Chair, already familiar from British Acid Jazz compilations), Mike Koskinen and Matti Boiling.
About the forthcoming releases, Tommi mentions Kuusumun Profeetta, whose album he is going to publish as vinyl version in Japan, probably the solo album of Chris Dawkins (ex-Nightmares On Wax), produced by Jimi Tenor; also material from Die Blutleucht, Acidkings, Eero Koivistoinen, Olli Ahvenlahti and Nicole Willis.
Tommi has now returned to Finland, after having lived some time in the warmer climate of Barcelona, Spain, like his Sähkö/Puu friends Mika Vainio and Jimi Tenor.

"The Sähkö Headquarters is here by the desk at my own home", Tommi Grönlund tells. The home office has a computer, some files, "a metre-thick pile of faxes", boxes full of DAT tapes and records. During one year, one cardboard box gets filled with demo tapes. "Most of them are still experimental electronic stuff. Little by little, also some different sorts of tapes seem to start coming, which makes me glad."

Tommi says he would like to widen the spectrum of Sähkö's published musical output, and to keep its every release surprising or even confusing for the audience, in a positive way; to go against the grain and not to worry too much about the possible expectations from outside. So, the sparse minimalist techno seems to be not in the agenda any more, and the future remains totally unknown.




The official Sähkö Recordings page






[Pan sonic History] [Jimi Tenor History]
[FinnScene - general info on techno in Finland]



Thanks to Pertti Grönholm, whose article on Sähkö I heavily loaned, and Pirkka Hartikainen who allowed me to use his picture from Helsinki Underground.

Copyright © 1995-2012 pHinn (for the text)