Nostradamus on the year 1999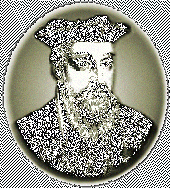 Century 10, Quatrain 72

L'an mil neuf cens nonante neuf sept mois,
Du ciel viendra vn grand Roy d'effrayeur:
Resusciter le grand Roy d'Angolmois,
Auant apres Mars regner par bon-heur.

In the year 1999 and seven months
The Great King of Terror will come from the sky,
He will bring back to life the great king of Angolmois.
Before and after Mars reigns happily.