IMPORTANT NOTICE: This is not a commercial service. I don't sell or trade magazines, books, electronic files or any other related material.
I only have these scans which you can see on this page and FinnSleaze blog, and don't own the actual magazines, so if it's not here, it's no point sending me a mail asking for scans of any particular photos or articles contained in these magazines. [FAQ]
Instead, you can try your luck for example with Huuto.Net ("Finnish eBay") [ - click "Haku" ("Search"), and write in the "Hakusanat tai kohdenumero" field the name of the item you're looking for].
Hymy: Historian havinaa - seksi ja novellit (as PDF files some erotic novels from famous Finnish authors published by Hymy in the 70s)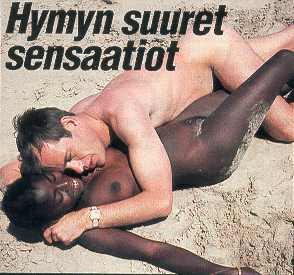 Jörn Donner and a local lady named Ida frolicking on a Gambian beach, Hymy, 1971
[2] [3] [4] [5]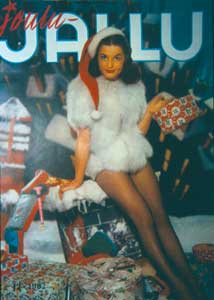 Jallu looked this sweet and innocent on one of its early 1960s Christmas issues.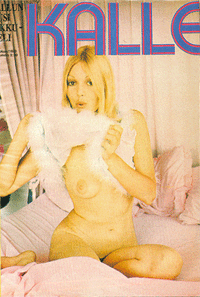 The first issue of Kalle, 1973. (Click image for a larger picture.)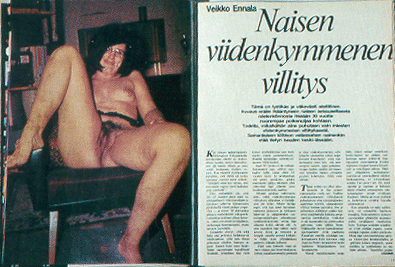 The journalist legend Veikko Ennala also wrote for Kalle
More Ennala for Kalle
Juha "Watt" Wainio writing for Kalle
Martti "Huuhaa" Innanen writing for Kalle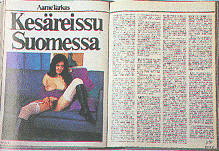 Film director Aarne Tarkas writing for Kalle
Jorma Ojaharju writing for Kalle
Oskar Reponen writing for Kalle
A typical 1970s story in Kalle
Timo T.A. Mikkonen was the hot celebrity in the mid-70s
Curly wigs were popular with ladies in these days
p
Some Kalle covers from the 1970s/80s
Ratto, another legendary men's magazine in the 1970s
Typical Ratto journalism