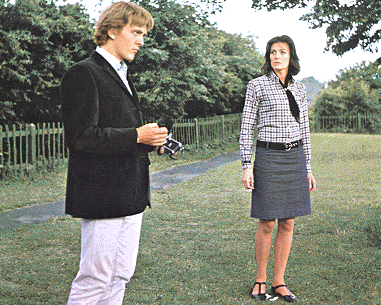 Blowup (1966)


A drama of typical Antonioni mood and mystery, Blow-Up was his first English-language motion picture. Inspired by Julio Cortázar's short story Las babas del diablo ("The Droolings of the Devil"), it is the tale of two days in the life of a successful fashion photographer who becomes involved in an arranged murder as the result of taking a casual picture of a couple in a London square. Playing the principal roles are Vanessa Redgrave, David Hemmings and Sarah Miles.
In basing the story of Blow-Up on a photographer, Antonioni hit on the year's most topical choice of subject. In the 1950s photographers were largely obscure figures on the London scene. In 1966 they had became the "In" profession.
Blow-Up is set against the world of "Swinging London"'s fashions, dolly-girls, pep groups. beat clubs, models and parties. It was shot on locations ranging from a tunnel under the Thames River, and a scene filmed alongside the old tea-clipper, "The Cutty Sark", at Greenwich, to the Dickensian quarter of Peckham Rye. Other locales include the open-air market of Brixton, Maryon Park, Carnaby Street, where the "in gear" shops of London were located, the Soho beat clubs and the neighbouring Tin Pan Alley in Denmark Street, apartments in Chelsea and news houses in Belgravia.
In addition, five weeks of interiors were shot at a converted slaughterhouse in the Holland Park quarter of London, which in real life was the fashion studio of John Cowan, one of London's leading photographers. Appearing prominently in this setting are six international models -- Verushka, Jill Kennington, Peggy Moffitt, Rosaleen Murray, Ann, Norman, and Melanie Hampshire -- wearing a wardrobe especially designed by Jocelyn Rickards, who designed the costumes for the prize-winning The Knack and Morgan.