V/A
Malaria! Versus
Moabit / Universal
April 2001
* Chicks on Speed: Kaltes Klares Wasser
NOTE: 13 tracks, versions of Malaria! songs by CoS, Solex, Dr. Motte, DJ Koze, Thomas Fehlmann, etc.
V/A
Poptics (CD/lim. LP)
bung 066 / Bungalow
3 December 1999
* Chicks On Speed: Mind Your Own Business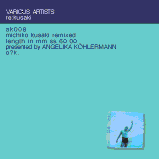 V/A
re: Kusaki (CD)
AK 008, Angelika Köhlermann
1 January 2001
* 1. Chicks On Speed: Eric
NOTE: a compilation of cover versions of songs by Michiko Kusaki (a.k.a. Anne Laplantine from France).
"the meanwhile legendary cd michiko kusaki in bright new clothes. her soft and melancholic songs were used and abused by some of todays most talented artists. they are all here: adult., sam & valley, console, obscurum, mixmup, dmx krew, gd luxxe, felix kubin, sylvester boy, bodenstaendig2000, pita, jo ashito, shinto feat. koneko, yoko tsuno, hypo, curd duca, chicks on speed. release date: 111100. this album rocks, baby. hard!" - Angelika Köhlermann press notes
V/A
Sonar 2000 (compilation CD)
So Dens
2000
* Chicks On Speed: ?
V/A
Unter unserem Himmel - Jetzt: Die Zündfunk CD
* 19. Chicks On Speed: Night of the Pedestrian

V/A
Voices In My Lunchbox Vol. 2 (12")
Plug Research, PR18MC4
October 1999
* Chicks On Speed vs. Potuznik & Bauer: Lisi, This Is House Music!
V/A
Voices In My Lunchbox (compilation CD)
Plug Research, pr19cd4
February 2000
* 5. Chicks On Speed vs. Potuznik & Bauer: Lisi, This Is House Music!
NOTE: The Voices In My Lunchbox series of releases are experiments with vocals in techno, house, electro & electronic music. This cd compiles the tracks from both 12" releases plus several new experiments added in.
V/A
The WMF Records Comp 1 - "Night Effect" compiled by DJ Highfish
wmfrec cd001
WMF Records, http://www.wmfclub.de/ -> records
1999
* 1. Intro (00:36)
by Kiki, Melissa, Alex, Mike, Chris, Tina
* 2. Chicks on Speed: Night of The Pedestrian (04:09)

lyrics by Logan/Moorse/Murray-Leslie
published by Tobi Neumann/Chicks on Speed; music by Tobi Neumann
published by Polygram Songs
produced by Tobi Neumann/Chicks on Speed


V/A
Xart Hybrid - Documentation (compilation DC)
XART1CD
November 1999
* 5. Chicks on Speed mutated by Ramon Bauer & Gerhard Potuznik: Monsters (4:07)
[edits from xart live recording; processed at random studios; date of appearance in the xart hybrid project room: 01.03.99]
xart hybrid contact: phone +45 3314 8037, email xarthybrid@hotmail.com
NOTE: "we are on the xart hybrid compilation (a project room in copenhagen) which was released in november, our contribution is from the monsters exhibition when we exhibited/played in copenhagen with gerhard potuznik and ramon bauer.
also includes trax by pole and rene and pete from hardwax + many more.
i think it's available at hardwax berlin." - CoS
"The xart hybrid cd is a documentation of series of events called xart hybrid in a project room in Copenhagen. The project lasted from November 1st 1998 to June 30th 1999 and was located in an old soybean oil factory at the harbour front. The intention with xart hybrid was to create an open space based on a variety of current innovations in sound and vision. In the period and at that location xart hybrid in collaboration with others arranged bars, parties, concerts and exhibitions. [ ... ]"
"[5] Monsters is a sound and visual project that took place in Marseilles in March 1999 and was an alliance between Gerhard Potuznik, Florian Hecker & Chicks on Speed, counting Kiki Moorse, Melissa Logan and Alex Murray-Leslie. It was then presented in a gallery in Marseilles and afterwards shown in the xart hybrid project room, where Ramon Bauer participated in the project instead of Hecker. At the xart hybrid cd the voices of the Chicks on Speed are mutated by Bauer and Potuznik." - Xart Hybrid press info
Yukari Fresh
Break Remixes (12")
ESC065, Escalator Records (Japan)
23 September 2004
* B1. Break - Chicks On Speed Remix
Yukari Fresh
New Album (CD)
Escalator Records (Japan)
14 February 2005
* Break - Chicks on Speed Remix



cHIcKs-o-gRApHy