Having also played at Pelle Miljoona's band from late 1981 to early 1982, Jimi Sumén performed in February 1982 as a warm-up act of the well-known British synth act Classix Nouveaux at the nightclub of Hotel Presidentti in Helsinki. After this Classix Nouveaux recruited Jimi Sumén to their ranks and he moved to live in England, where he played on their final album, Secret (1983).
After having returned to Finland, Sumén concentrated on a career of record producer for many Finnish rock acts. His 1993 solo album Paintbrush, Rock Penstemon stylistically approaches jazz. Jimi Sumén also played guitar in Sound & Fury, an ensemble led by the Finnish jazz legend Edward Vesala.
Jimi Sumen: 'Boys and Girls' - live 1982 video clip @ YLE Elävä Arkisto
Thanks to Jarkko Kuivanen and Hannu Haahti for additional info and Mikko Niemelä for scans.



Discography

NOTE: by clicking some images, you can see larger versions of them.



Jimi Sumén
Key West (LP)
LRLP 259
1978
A1. Fleet Street 64
A2. Your Day
A3. Backroads
A4. If It's Too Loud
A5. 'Cause It's Not Too Late
B1. Hammingway Sam
B2. You're a Punk
B3. Miami Mammie
B4. Hillage Boogie
B5. Night Time
DIG IT (Helsinki, Finland)
Jimi Sumén Projekt
Screenplay (LP)
DIG LP8
1980
A1: Screenplay (1:46)
A2: Motor City (2:27)
A3: China Speed (2:34)
A4: Local Lust (2:40)
A5: Movements (5:35)
A6: Katsu! (3:34)
B1: Scandinavian (3:18)
B2: Cut Up (3:32)
B3: Mister (4:26)
B4: Swingin' London (3:39)
B5: Isn't It Wild (3:59)
Jimi Sumén Projekt
Movements [edit] / Swingin' London (7") DIGS 109
1980
A: Movements (4:20)
B: Swingin' London (3:39)
Personnel:
Jimi Sumén: Vocals, guitar, keyboards
Illi Broman: Drums
Kari Virta: Keyboards
Veijo Naakka: Bass
Seppo Valjakka: Guitar
with
Heikki Halme: Saxophone (on Swingin' London)
Produced by Tapio Korjus
Jimi Sumén
Katsu (instrumental, 7")
DIGS 116
1980

NOTE: one-sided single.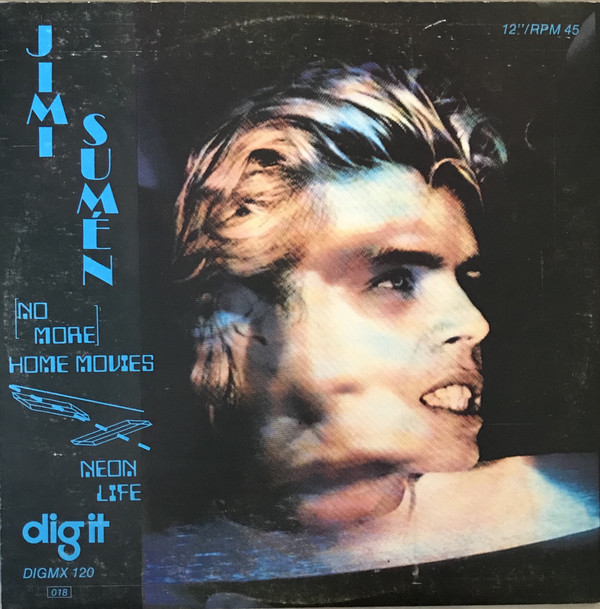 Jimi Sumén
(No More) Home Movies / Neon Life (7"/12")
DIGS119 / DIGMX 120
Dig It
1980
A. (No More) Home Movies (3:49)
B. Neon Life (3:55)
NOTE: different versions to the album; background vocals by Kaija Koo.
Jimi Sumén
The Model / Love Is A Liquid (7")
DIGS 125
Dig It
1981
A. The Model
B. Love Is A Liquid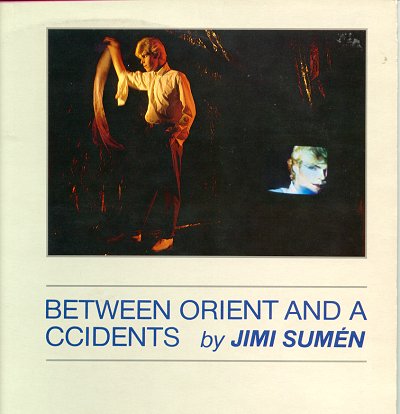 Jimi Sumén
Between Orient And Accidents
Dig It DIGLP 16 (LP, 1981)
A1: Chain Party (4:58)
A2: The Model (4:19)
A3: Home Movies (3:45)
A4: Neon Life (4:27)
A5: Rebel Rebel (3:18)
B1: Love Is a Liquid (5:47)
B2: Visitor's New Objects (3:12)
B3: Tokyo Story (4:46)
B4: The Other Side of Life (7:13)
All songs by Sumén, except Rebel Rebel (D. Bowie) and The Other Side of Life (D. Sylvian).
Jimi Sumén
Paintbrush, Rock Penstemon (CD)
CMPCD61
CMP Records (Kreuzau)
1993
1. Crane
2. Curtain of Twilight Shimmer
3. Meant To Rippen Into Straw
4. Deep As Maze
5. Butterfly of Wisdom
6. Jumpin' In Obscure Mind
7. Paintbrush, Rock Penstemon
8. Envelopes of Despair
9. Berperest Brou

All compositions by Edward Vesala. Recorded in Helsinki 1991-92.
Personnel:
Jimi Sumén (g), Matti Riikonen (tp), Jorma Tapio (cl), Jouni K annisto (sax, fl), Tapani Rinne (cl), Jukka Orma (pipa), Iro Haarla (keyb), Edward Vesala (dr, perc, keyb, producer), Kari Kriikku (cl), Mark Nauseef (perc).; Pertti Päivinen (sax, fl).
Featuring also: Vesala, Edward; Kriikku, Kari, (cl); Orma, Jukka, (pipa)


COMPILATIONS
JOHANNA (Helsinki, Finland)
Various Artists
The Art of Breeding (LP)
JHN 3013
1983
B1. Jimi Sum&eacuten: Nowhere To Run (5:10)

Produced by Jimi Sumén & Kari Kalén
Engineers: J. Sumén, M. Groundstroem, M. Vikstedt
Mixed by J. Sumén, Finnvox-Studios
Cover painting: Val
Cover design: Kari Kalén
Jimi Sumén appears by kind permission of Rockadillo Records
Credits:
B1. Holland-Dozier, arr. by J. Sumén, J. Havanna, K. Kalén

(P) Johanna Kustannus Oy
except B1. © Stone Agate Music Division (BMI)
(P) A.A.B. Tuotanto Oy 1983
Documentary films
Tosi tarina: Jimi Sumén – sairaus parantaa ("True story: Jimi Sumén - how the disease cures")
2011
Produced and directed by Tommi E. Virtanen and Lari Seppälä.
A short TV documentary for Finnish Broadcasting Corporation on Jimi Sumén's career and his later struggle with multiple sclerosis.
"Jouko 'Jimi' Sumén was one of the brightest Finnish rockstars in the 1980s. He was a chameleon who dazzled with his virtuoso and confounded audiences with his surprising sound solutions. Known as a hard-working man, following the cliché of 'sex, drugs and rock'n'roll' and giving no thought to his home and family as his life was filled with tours and studio sessions, only when he fell ill with MS disease, Sumén had to stop to consider who he really is. After personal contemplation he felt how the disease had cured him from the narcissistic rock life.
His wife Sari and his children, Julian and Tesla, hold now the most important place in Jimi's life. It has marked also a new musical beginning.
Even though MS disease causes muscular weakness and the subsequent lack of coordination, gradually making the patient wheelchair-bound, Jimi hasn't given up. He has developed a new technique of playing and with that the musical creativity has been within his reach again. The regrouping of Sound & Fury with its comeback tour has meant a great challenge for Jimi. Physically every gig can be an extreme ordeal. On the other hand, musically Sumén feels he's more mature than ever and plays -- at least in his own mind -- better than ever. The chameleon has found the exact chord he's been looking for."

(From the introduction for the documentary.)


Jimi Sumén image 1 Jimi Sumén image 2 Jimi Sumén image 3 Jimi Sumén image 4 Jimi Sumén image 5 Jimi Sumén image 6


Listen: Jimi Sumén YouTube playlist by pHinnWeb


[FinnScene Early: Synthpop]
[FinnScene - The Early Years]